Benefits of e-Bikes When Hunting
With an electric bike for hunting, you get to your destination quicker, quieter, and without leaving your scent on the ground. Get to your blind faster in the morning or go deeper into the backcountry on your next Elk hunt.
Get There Faster
Travel faster using an electric bike than hiking or running. The bike will get you in front of the game you are hunting.
Travel Further
Get farther into the backcountry with less distress on your body. Go further than you have ever imagined!
Carry More Gear
No need to remove a couple of essential items from your backpack. The bike can carry your gear, so take the necessary gear for your trip.
Choosing to get an electric bike for hunting is a no-brainer. Choosing the right bike for your hunting property or public land terrain is much harder.
For years, I have embraced the wild allure of hunting, relying solely on my own two feet and a trusty backpack to traverse the rugged landscapes that hold my hunting grounds. The challenges of reaching remote areas while carrying heavy gear have always been a test of endurance, and the limited time available to me in a fast-paced world often left me yearning for more. However, my hunting adventures took an exciting turn when I discovered the incredible potential of e-bikes for hunting.
By embracing this innovative mode of transportation, I found myself unlocking a world of efficiency and accessibility that forever transformed my hunting experience.
Gone are the days of grueling treks through treacherous terrain, weighed down by the burdens of fatigue and time constraints. With the introduction of an e-bike into my hunting arsenal, I discovered a newfound freedom and a remarkable conservation of energy. No longer bound by the limitations of my physical endurance, I could now venture deeper into the backcountry with a vigor and enthusiasm that seemed boundless.
The time-saving benefits of e-bikes for hunting cannot be overstated. The hours I used to spend trudging through arduous trails can now be utilized more efficiently, granting me precious additional time in pursuit of my prey. By harnessing the power of electric assistance, I can cover greater distances in less time, leaving no stone unturned in my quest for the ultimate hunting experience.
Not only does the e-bike save me time, but it also spares my body from the wear and tear that accompanies long and grueling hikes. The strain on my joints and muscles has diminished significantly, allowing me to maintain peak physical condition throughout the entirety of my hunting expedition. This newfound preservation of my body's vitality means that I can focus more intently on the hunt itself, fully immersing myself in the natural surroundings and honing my skills to their utmost potential.
Shaggy Outdoors Top e-Bikes for Hunting
Best Overall E-Bike for Hunters
Bakcou Mule Elite
The Mule Elite is our #1 pick for e-bikes in 2023. This bike is built for offroad hunters by backcountry hunters and anglers. The bike is a hardtail design with front suspension forks and a Bafang Mid-Drive Motor. It has top-of-the-line components and has been the #1 electric bike sold for hunters over the past several years. Buy this bike to get the best overall components, load capacity, durability, and power.
Best Overall E-Bike For Hunting in 2023
Eunorau Defender-S
The Defender-S by Eunorau has all the bells and whistles for less than $3,000. How can you go wrong with a bike that has AWD hub motors and full suspension? This bike is strong, durable, and has excellent components for the money. Buy this bike if you are looking to buy an e-bike but don't want to break the bank.
Best E-Bike For the Money in 2023
Best E-Bike for Load Capacity
Himiway Cobra Pro
The Himiway line of e-bikes is reported to have a 400lb capacity. Rated the highest we have found for load capacity. The average reported load capacity of most hunting electric bikes is 300 lbs and sometimes you can get them at 325 lbs. Buy this bike if you are a larger person who needs to carry gear into the backcountry.
Best E-Bike For Load Capacity in 2023
Bakcou Flatlander
All e-bikes are capable of being used on flat ground. Not all bikes can be used in rough terrain or when traveling hills. The Flatlander by Bakcou is built on the Mule frame with a single rear hub motor. The single hub has a lower rated torque and is best when traveling on flat ground. Buy this bike if your riding area is flat with minimal hills.
Best E-Bike For Flat Ground Travel in 2023
Best Full Suspension E-Bike
Bakcou Storm
Bakcou makes the best e-bikes for hunting and backcountry anglers. They are hunters and fishermen who put their bikes through the riggers of their travels. The Storm is a full-suspension bike with top-of-the-line components. There is no doubt you will have the smoothest and most comfortable ride with this bike. Buy this bike if you want one of the best bikes on the market with full suspension.
Best Full Suspension E-Bike For Hunting in 2023
Do I Choose an E-Bike with a Mid-Drive or Hub-Drive Motor?
When it comes to choosing an e-bike for hunting, one important consideration is the type of motor it employs. The two options are mid-drive and hub-drive motors, each with distinct characteristics and advantages.
Mid-Drive Motor for Hunting E-Bikes
Mid-drive motors are positioned in the middle of the e-bike's frame, near the crankset. This strategic placement ensures a more balanced weight distribution and a lower center of gravity, resulting in improved stability and handling, especially on challenging terrains.
Mid-drive motors are known for their efficient power delivery, as they leverage the bike's gears to provide torque directly to the drivetrain. This means that the motor can take full advantage of the bike's existing gear ratios, allowing for better climbing abilities, especially on steep inclines. The ability to utilize the bike's gears also results in a more natural and responsive riding experience.
Finally, mid-drive motors tend to offer better overall efficiency, which can translate into longer battery life and more torque. The mid-drive motor is a more expensive option than the hub drive motors but gives you the most power to climb hills and get through rough terrain.
Hub-Drive Motors for Hunting E-Bikes
On the other hand, hub-drive motors are integrated into the hub of either the front or rear wheel. They are generally simpler in design and offer a more straightforward installation process. Hub-drive motors provide direct power to the wheel they are mounted on, resulting in smooth and consistent power delivery.
These motors are often quieter than mid-drive motors and require less maintenance due to their fewer moving parts. Hub-drive motors are well-suited for flat or moderately inclined terrains and can provide a comfortable and effortless riding experience.
Hub-drive motors can consist of one or two motors on the bike. One motor on the rear would be a rear-wheel drive and two motors give the bike the option of AWD. When the switch is turned to AWD then both motors are engaged and the bike can have increased traction and better controllability. Typically, one hub motor will have750w of overall power or less, while two motors can be combined to get upwards of 1000-1500 max watts and 160N.m of power and torque.
Conclusion to Mid vs Hub Drive Motors
When choosing between a mid-drive and hub-drive motor for a hunting e-bike, it is essential to consider the specific terrain and hunting conditions you will encounter. If you anticipate tackling steep hills and challenging off-road trails, a mid-drive motor with 1,000-1,500 watts will offer superior performance and versatility. However, a hub-drive motor can provide a reliable and cost-effective option if your hunting grounds consist of mostly flat or moderately inclined terrains.
Ultimately, the choice between a mid-drive and hub-drive motor depends on your personal preferences, the type of hunting you engage in, and the terrain you frequent. Evaluating your specific needs and conducting thorough research will help you make an informed decision, ensuring that your hunting e-bike aligns perfectly with your goals and expectations in the great outdoors.
Don't choose an e-bike for hunting without looking at the whole picture. The next important feature is the bikes battery.
What Bike Battery Volts and Amp Hours are Best for a Hunting E-Bike?
When it comes to hunting using an electric bike, the choice of battery plays a crucial role in determining your off-road performance and overall experience. In this section, we'll delve into the world of e-bike batteries and shed light on why a 48-volt battery surpasses its 36-volt counterpart for hunting adventures.
In addition, we'll explore the importance of amp-hours (Ah) in determining the range of your e-bike, ensuring you can cover vast distances without worrying about power depletion. Let's embark on a journey to understand the vital factors that make e-bike batteries indispensable companions for hunting excursions.
Exploring the Power of 48V:
When it comes to hunting off-road, a 48-volt battery reigns supreme over a 36-volt option due to its enhanced performance and capabilities. The higher voltage translates into increased power output, allowing you to conquer steep hills, tackle rough terrains, and effortlessly navigate through challenging landscapes. With a 48V battery, your e-bike boasts greater torque and acceleration, ensuring you can swiftly maneuver and respond to changing hunting scenarios.
Furthermore, the higher voltage also contributes to improved efficiency, reducing the strain on the battery and extending its overall lifespan. Ultimately, a 48V battery empowers you to venture deeper into the wilderness and reach those elusive hunting grounds with confidence.
Understanding Amp-Hours for Extended Range:
When planning extended hunting trips, the amp-hour (Ah) rating of your e-bike battery becomes a crucial consideration. Amp-hours determine the capacity of the battery, indicating the amount of energy it can store. Higher amp-hour ratings equate to increased energy reserves, enabling you to cover more ground before requiring a recharge.
For example, a battery with a 20Ah rating can typically provide more range than a battery with a 15Ah rating. It's important to note that factors such as terrain, rider weight, speed, and assistance level can influence the actual range achieved.
By selecting an e-bike battery with a higher amp-hour rating, you'll enjoy extended hunting expeditions, ensuring you have ample power to reach distant trails and scout remote locations.
Considerations Beyond Voltage and Amp-Hours:
While voltage and amp-hours are critical factors to consider, several other aspects should be evaluated when choosing an e-bike battery for hunting. Battery weight, for instance, can affect the overall handling and maneuverability of your e-bike, so it's prudent to strike a balance between capacity and weight. Moreover, battery quality, durability, and compatibility with your specific e-bike model are essential considerations to ensure seamless integration and long-term reliability.
Final Thoughts on E-Bike Batteries
In the realm of hunting using an electric bike, selecting the right e-bike battery is paramount to unlocking exceptional off-road performance. Opting for a 48-volt battery harnesses increased power and efficiency, propelling you through challenging terrains with ease.
Some electric bikes for hunting don't give the buyer a choice in the battery they get with the bike. Batteries that are located outside the frame of the bike will typically have an option of battery "amp hours". Bikes where the design of the battery is integrated into the frame of the bike will typically require you to use the battery provided and when you need to replace the battery you will need to stay with the same option, given the space allocated for the battery.
With the perfect combination of voltage, amp-hours, and other pertinent considerations, your e-bike battery becomes a reliable companion, enhancing your hunting adventures while preserving the serenity of the great outdoors.
Best E-Bike for Hunters and Backcountry Anglers: Top 8 Choices to Consider Before Buying
The following eight bikes are Shaggy Outdoors' top electric bike picks for hunters. We broke the choices down into 5 Top and we also provide 3 alternative bike options for you to check out.
We have a comprehensive list of both mid-drive and hub-drive e-bikes for you to check out. Below is the link to each, see all the best models on these pages.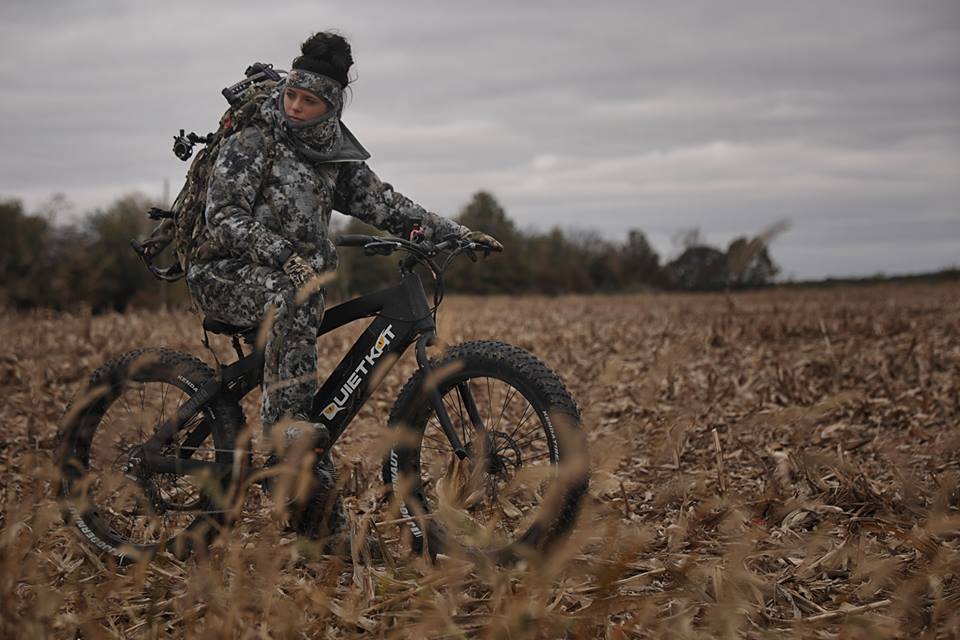 Choosing the Best E-Bike Option for You: Finding the Perfect Ride for Your Adventure
When it comes to selecting an e-bike that fits your needs, finding the perfect combination of components can make all the difference in your riding experience. From brakes and gears to hardtail or softtail options, along with the battery and motor, each component contributes to the overall performance and suitability of an e-bike.
Check out our blog "What are the Top 17 Factors Hunters Need to Know and Consider Before Buying and E-Bike" where we go deep into knowledge on e-bikes for hunting.
In this blog, we explored the best e-bikes for hunters and took into consideration the features and components that make up the best bike and bike options. But to make a decision on which bike may be best for you, we need to check out the key considerations to help you make an informed decision and choose the best e-bike option that aligns with your preferences, riding style, and desired adventure.
Determine Your Riding Style:
Begin by identifying your riding style and the terrain you'll most frequently encounter. If you prefer smooth city streets or well-maintained trails, a hardtail e-bike with front suspension may suffice. On the other hand, if you seek rugged off-road excursions, a softtail e-bike with both front and rear suspension can absorb impacts and enhance your comfort on uneven surfaces. Understanding your riding style will help narrow down the options and steer you toward the most suitable e-bike design.
Consider Brakes and Gears:
Brakes and gears are crucial components that greatly influence your riding control and performance. Disc brakes, whether hydraulic or mechanical, offer reliable stopping power and work well in diverse weather conditions. As for gears, a wider range of options allows you to conquer challenging terrains and adapt to various gradients effortlessly. Consider your riding environment and preferences to determine the brake and gear system that will best complement your riding style.
Evaluate Battery and Motor:
The heart and soul of an e-bike lie in its battery and motor. Battery capacity, measured in watt-hours (Wh), determines the range and duration of your rides. Opt for a battery with sufficient capacity to accommodate your desired distance and explore off-road locations with peace of mind.
Additionally, evaluate the motor's power and torque output, as it directly impacts your ability to conquer hills and accelerate smoothly. Choose a motor that aligns with your desired riding intensity, whether it's a rear hub motor for leisurely cruises or a mid-drive motor for more demanding terrains.
Consider Budget and Value:
A big decision falls in line with your budget. As a hunting bike you need to consider your terrain, but you don't need to purchase the highest price bike on the market. There is a middle ground and bike that can perform how you need and give you years of riding joy.
So determine your budget and weigh it against the value you expect from an e-bike. Consider the durability, quality, and long-term maintenance costs associated with your chosen e-bike option. While it may be tempting to opt for the most affordable model, investing in a quality e-bike with reliable components can provide better performance, durability, and satisfaction over time.
Final Thoughts on The Best E-Bikes for Offroad Hunting
Choosing the best e-bike option involves a thoughtful examination of various components and personal preferences. Consider your riding style, evaluate the brakes and gears, carefully assess the battery and motor specifications, and prioritize comfort during test rides.
Factor in your budget and the long-term value you seek from your e-bike investment. Remember, finding the perfect e-bike is a personal journey, and by selecting a model that aligns with your needs, you'll unlock countless adventures and embrace the joy of riding with electric-powered freedom.